CUSTOMER SERVICE THAT SHINES
Providing superior customer service is undoubtedly the reason we've been in business for going on 42 years. Our mission at Nasr Jewelers is to work with honesty, integrity, and the highest quality workmanship, providing customers with custom and brand name pieces sure to please. With the most loyal customer base around, it's no wonder we have a 5 star rating on The Knot and a 4.6 on Google.
By having a genuine interest in providing the best customer experience, whether it be by partaking in the search for the perfect engagement ring or repairing a precious stone on a family heirloom, the team at Nasr Jewelers in Denton, TX truly cares about their work. For help in your next jewelry purchase or repair and the most pleasant buying/shopping experience, be sure to visit us at Brinker Crossing!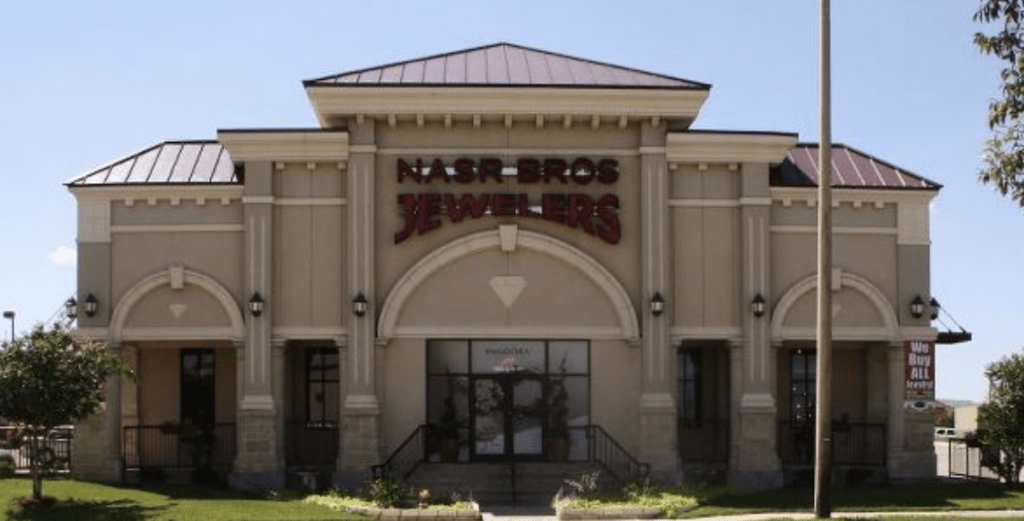 OUR STORE
Owner: Peter Nasr
Phone: (940) 565-8282
Fax: (940) 383-4365
Address: 1800 Brinker Rd Suite 100 Denton, TX 76205
Hours: Monday-Friday: 10am-8pm, Saturday: 10am-6pm, Sunday: Closed
FAIRVIEW
Owner: Paul Nasr
Phone: (972) 886-4177
Fax: (972) 886-4178
Address: 199 Town Place Fairview, TX 75069
Hours: Monday-Saturday: 10am-7:30pm, Sunday: Closed
GARLAND
Owner: John Nasr
Phone: (972) 495-6277
Fax: (972) 495-1594
Address: 595 Town Square Blvd Garland, TX 75040
Hours: Monday-Saturday: 10am-7:30pm, Sunday: Closed
ROCKWALL
Owner: Luis Nasr
Phone: (972) 772-7799
Fax: (972) 722-1665
Address: 2667 Market Center Rockwall, TX 75032
Hours: Monday-Friday: 10am-7pm, Saturday: 10am-6pm, Sunday: Closed
PLANO
Manager: Elie Nasr
Phone: (972) 378-0102
Address: 3310 Dallas Parkway Suite 109 Plano, Tx 75093
Hours: Monday-Friday: 10am-7pm, Saturday: 10am-6pm, Sunday: Closed
HIGHLAND VILLAGE
Phone: (972) 317-6565
Fax: (972) 317-8484
Address: 1400 Shoal Creek Dr. Suite 160 Highland Village, TX 75077
Hours: Monday-Saturday: 10am-7pm,
Sunday: 12pm-4pm